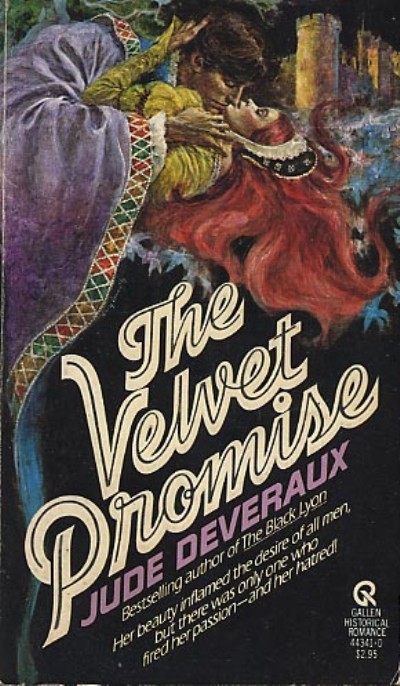 I was recently asked what age I thought was too young for reading romance novels. My first inclination was to say at least 16. But then I got to thinking, what was the first romance novel I read and how old was I? I started reading romance when I was 13 but really, it was probably earlier.
I distinctly remember buying my first romance novel and knowing it was romance. That was in 1981 when I was 16; the book was Highland Velvet by Jude Deveraux. I was an early reader though and thought romances were adventure stories. I can't remember titles or authors prior to Deveraux, but I do remember being captivated by tales set on the high seas, wagons crossing the prairie, or epics taking place in far off places. I was a young woman on the brink of adulthood and where I'd previously ignored the intimate scenes of the characters, I was now intrigued by them.
The question of how old a girl should be before being allowed to read romances has long been asked. Friends who started reading romance at a young age say, "The sex? I just turned the pages until the next action scene started." Secretly, we read the mushy stuff because we were all growing up. Sex was something we didn't understand. We read romances to see how the whole boy-girl thing worked. Sex Ed classes were basic and focused on the physical rather than emotional. What romance did for young girls was introduce us to the emotional. We craved the knowledge of a real loving relationship. We giggled over the purple prose, but we were growing up, and we wanted boyfriends!
The publishing industry recognized this need in the market and started publishing books like Ann Brashares's
Sisterhood of the Traveling Pants
, Francine Pascal's
Sweet Valley High
, Judy Blume, Jenny O'Connell . . . even V.C. Andrews. And more recently, Stephanie Meyer's Twilight. These authors focus on relationships and emotional attachments of love while giving us great adventure.
So what age is too young for romance? Only a parent can answer that question, especially romance with graphic sex. But if you ask me, given a choice of books about love or war, the adventure of life over quests filled with horror, I'll pick love and adventure every time.
And secretly, I still giggle over the purple prose — even when I'm writing them!